---
Janelle C. Henry-Buck
1963-2020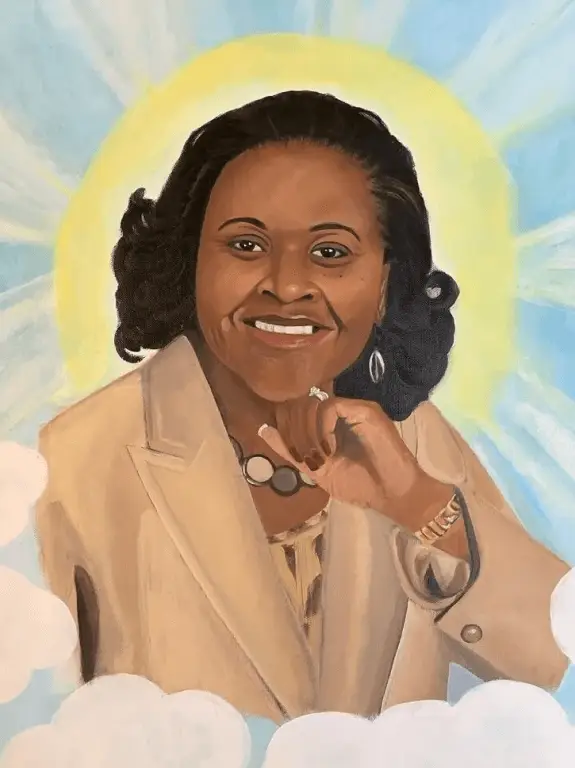 Janelle Charlaine Henry-Buck, 56, transitioned peacefully to her eternal rest on Tuesday, June 16, 2020, at her residence in Cambridge. Janelle was born August 13, 1963, in Cambridge to Lorraine T. Henry and the late Charles Jerome Henry. She was a 1981 graduate of Cambridge South Dorchester High School where she was active in the Cambridge South Dorchester High School Marching Band under Mr. Robert Batson and as leader of the Flags Crew. She was also active in the Girl Scouts of America. After graduation, she attended Lincoln University receiving with Honors, a Business Executive BA Degree in 1985.
Janelle grew up in Cambridge and was raised in a loving and caring home by her parents who loved the Lord. As a child, she attended Waugh Chapel United Methodist Church where the family had been active. She was loved by all community children, and enjoyed singing and participating in the community activities.
Janelle, in 1989, was a graduate of Catonsville Community College, now called the Community College of Baltimore City in Catonsville, Maryland There, she received an AA in Mortuary Science. She also became a licensed mortician in the State of Maryland and she was licensed in the State of Delaware as a licensed life insurance agent. Janelle really enjoyed working with her Dad in the Henry Funeral Business. Her parents admired Janelle's ambition as a Black Female Mortician in the area.
Janelle's work as an adult and as a Funeral Director was always to support families whenever and wherever possible. This meant many long hours of work in order to meet deadlines. She loved people and all knew her thoughtful, giving, and caring nature were ever present and reflected not only in her work, but in her employees as well. One of Janelle's goals was to assist the "Servant Spirit" of "Zhaden T. Myster," who was her neighbor and just like a son, become a Licensed Mortician, which was achieved. She was so happy and proud of his achievement. The staff shouted with joy, praising God from whom all blessings flow.
Her parents admired her ambition as a Black Female Mortician in the area. During her years as a Mortician she has served faithfully. Janelle loved the Lord and had a strong belief in the "Word." This continued and she became a dedicated Lay Speaker under Dr. Yvonne Penn and continued under Reverend Jerome Tilghman. She generously gave her time and personal resources to serve as a "New Member Class Leader" and as a Trustee Board member.
Janelle and Ivory III met while in college at Lincoln University and became college sweethearts. The two later married at Waugh Chapel United Methodist Church on June 23, 1990. They loved their families and would travel many places by land and air to enjoy vacationing with family and friends.
On February 23, 2000, Ivory M. Buck III and Janelle were blessed with a son, Ivory IV. He was the pride of their lives as parents and certainly both grandmothers' and grandfathers' pride and joy!
Janelle was a member of the National Funeral Directors Association, National Funeral Directors & Morticians Association in Maryland, Funeral Directors & Morticians Association, Delmarva Funeral Services Association, and the Epsilon Nu Delta Mortuary Fraternity—Alpha Beta Chapter.
In addition to her professional involvement, she was an active member of the St. Luke United Methodist Church, NAACP, Delta Sigma Theta Sorority, Inc. (a public-service sorority), the Fellowship Chapter #58, Order of the Eastern Star, Abulahab Court #189 Daughters of Isis, and the Second Generation Community Chorus of Federalsburg, Maryland.
Janelle's Delta Line Sister was Cambridge Mayor Victoria Jackson—Stanley, and the two have shared many happy moments since April 23, 1988. Awards: Who's Who in Executives & Professionals (2001-2002), Who's Who VIP Professionals (2004-2005), MD Chamber of Commerce, Small Business Award for Workforce Development (2002) Business Woman of the Year for Iota Phi Lambda Sorority, Inc. Bea Epsilon Chapter (2005), Cambridge Main Street Spirit Award (2006), Community Service Award—Omega Psi Phi Fraternity Inc. (Pi Alpha Chapter) (2009), and Community Service Award given by St. Luke UM Church (2009).
---